A spin-off of the "Buffy the Vampire Slayer" series,
we now have a series of ANGEL action figures.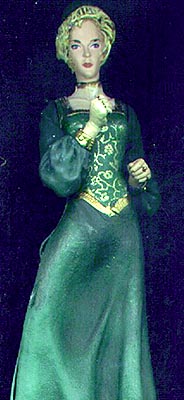 A Victorian era inspired Angel; I used an Icabod Crane body, Angel arms and Angel head with restyled hair.
A Victorian era inspired Darla. I used the arms of Janis Joplin and the body of the Shrek princess with the head of a McFarlane video game figure.

The Victorian couple will also have a repaint exclusive in Vampire mode.
(not shown)


The demonic Host, Lorne, is made from an Austin Powers figure with reshaped legs, microphone and drink.
Angel's associate, Gunn is made from a Steve Irwin Crocodile Hunter figure.