Marvel Animated "The Darker Side"
After the sucess of last seasons Marvel Animated Spiderman, we have decided to carry on in the animated style, but this time go more for the anti heroes. There are six figures to be released in this line, with a special mail away. These consist of:
Wolverine.
Everyone's favourite X-Man, Wolverine comes in the classic blue & yellow costume with "adamantium" claws.
Punisher.
Next we have Frank Castle, the Punisher, coming in a more classic looking costume. He comes with a pistol, pump action shotgun & boot knife.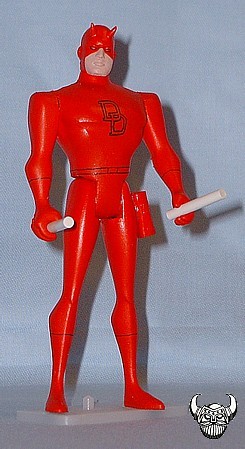 Daredevil.
The man without fear comes next, in his second costume, he comes with a pair of billy clubs that can be placed in the leg holster, when not being used.
Ghost Rider.
The spirit of vengence show his face next, coming with two sets of chains and "glow in the dark" head, chains & belt. We do plan to release a bike for him at a later date.
Death's Head.
For those of you not familiar with the character, he appeared in Transformers UK & eventually got his own mini series.The "freelance peace keeping agent" comes with a removeable right hand, which can be replaced with any of the four weapons attached to his shield. They consist of a mace, an axe, a frag missle & a plasma blaster. He also comes with a blaster rifle.
Conan.
This barbarian is a somewhat strange addition to the line, but we feel he had to added to balance out the others. He comes with a sword that can be removed from it's scabbard and a travelling cape, (not pictured).
Mail away Iron Man.
Once again if you collect your proof of purchases, you can send away for this classic Iron Man. Be the first on your block to own a Tony Stark Iron Man.